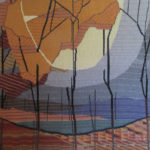 ArtReach St. Croix Galleries, 224 N. 4th Street, Stillwater, MN
On View: August 24-September 30
Wednesdays-Fridays, 10am-4pm and Saturdays, 12-4pm

In science, an equinox is a day with equal amounts of day and night. Spiritually, the equinoxes signify the cycle of life and the opportunity of rebirth. As we approach the Autumnal Equinox, the ArtReach Galleries will feature artwork that shows balance and symmetry (monoprints by Beth Dorsey), rebirth of materials and a connection to nature (fiber sculptures by Barbara Bend), and the seasonal cycle of nature (vestments by Michaela Mahady).
Visit us at: www.artreachstcroix.org
detail of "Autumnal Equinox" by Michaela Mahady