Looking for a unique place for lunch or a nice dinner to end your day? Why not try some of the locally-owned restaurants that make the St. Croix Valley river towns such a fun place to visit. Or why not turn that day trip into a weekend getaway? The St. Croix Valley offers a variety of lodging options, but our favorite is on the waterfront.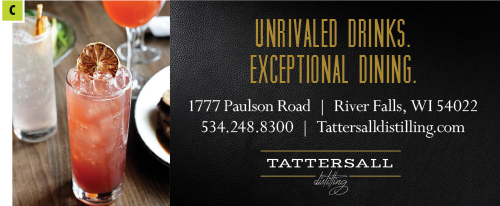 Tattersall Distilling – River Falls, WI
You're invited to explore, drink and celebrate at our 75,000+ square feet destination distillery, event center and dining experience. Whether you're stopping in for a well-crafted drink after a day on the Kinni or hosting a wedding for all your family and friends, we're ready to welcome you.
---
Water Street Inn, Charlie's Irish Pub & Papa's Rooftop – Stillwater, MN
The Water Street Inn is a distinctive and romantic 61-room historic hotel located on the St. Croix River waterfront in downtown Stillwater. Home to the new rooftop restaurant, Papa's and the expanded Irish Restaurant & Pub, Charlie's.
Phipps Inn Bed & Breakfast – Hudson, WI
The Grand Dame of Queen Anne houses in Hudson. Enjoy gourmet breakfasts and spacious surroundings. Close to home…yet a hundred years away.
Brookside Bar & Grill – Marine on St. Croix, MN
Brookside Bar & Grill has been an integral part of the Marine on St. Croix community for close to 80 years! Built as a creamery, the building has a brook that actually runs through the basement which was originally used in the production process. We believe the milk cans were set in the brook to keep the milk cold. The brook runs through the bar and under the street where it then cascades into the St. Croix River.